Acquisition further extends group's reach into industrial, utility and oil and gas markets
Author: Anonym/Wednesday, March 30, 2016/Categories: Press Release
STREATOR, Ill. (Feb. 11, 2016) – Vactor Manufacturing and parent company Federal Signal Corporation recently announced the acquisition of Westech Vac Systems, Ltd., a leading provider of rugged, high-quality vacuum truck-mounted solutions.
The acquisition helps to bring about technology and innovation that can be leveraged by Federal Signal'sEnvironmental Solutions Group in both the U.S. and Canadian markets. As a Federal Signal subsidiary, Westech will continue to operate in Nisku, Alberta, Canada, as Westech Vac Systems.
"Westech's commitment to quality products that have lasting value, and its focus on responsive post-sales service, fit Federal Signal's culture and our strategies," said Sam Miceli, senior vice president of Federal Signal's Environmental Solutions Group. "Westech's strong brand will complement the Vactor and Guzzler brands that also make up our Environmental Solutions Group."
Expanded footprint, greater stability
According to Miceli, the goal is to grow Westech's brand, name and product offerings, and help the company get back to its roots of customer responsiveness, product durability and reliability, parts availability and service support. "Not only does this acquisition extend the Environmental Solutions Group's collective footprint into Western Canada and across the United States, it also provides long-term financial stability to Westech's business," Miceli said.
Westech is considered one of the largest mobile vacuum tank manufacturers in Canada. For nearly 30 years, Westech has established a reputation for listening to their customers' needs and finding new ways to constantly improve. Supported by an experienced and knowledgeable team of engineering, sales and service professionals, Westech's products are designed for extreme environmental conditions.
Used in a wide variety of applications, including environmental clean-up and waste water collection, Westech's vacuum trucks are certified to Transport Canada safe-transportation standards, which are comparable to the U.S. Department of Transportation standards for hauling hazardous materials.
Increased opportunities in oil and gas industry
The Vactor and Westech lines of vacuum excavators, which include the Vactor HXX HydroExcavator and the Westech TC407 Hydrovac truck, allow quick access to buried natural gas, petroleum pipelines and water mains, cutting through hardened scale and frozen ground with reduced risk of damage.
"The acquisition of Westech is a continuation of our collective strategy to provide the leading products, services and support for the industrial, utility and oil and gas markets in North America," said Tony Fuller, director of industrial sales for the Environmental Solutions Group's FS Solutions. "Westech provides us with a rugged, cold-weather product line."
Western Canada, where Westech is headquartered, is a tough place to run vacuum excavation equipment. Extreme weather conditions, bad roads, rough terrain, and distant/remote work sites can make an already difficult job even harder.
FS Solutions extends support into Canada
Fuller added that Westech's facilities in Nisku, Alberta, will soon include an FS Solutions center that will offer services, rentals and repairs of Westech, Vactor, Guzzler and Jetstream products.
"Opening an FS Solutions center – our thirteenth center – at Westech's location reaffirms our commitment to increasing product, service, training and rental offerings to industrial cleaning contractors and other industry professionals in Western Canada and across the country," Fuller said.
Federal Signal's Environmental Solutions Group is a leading provider of a full range of Elgin street sweepers; Guzzler industrial vacuum trucks; Jetstream high-performance waterblasting equipment; and Vactor sewer cleaners and vacuum excavators for commercial, municipal and industrial customers. The Environmental Solutions Group also includes FS Solutions, which offers unsurpassed expertise and a unique breadth of environmental cleaning equipment, parts, rental, service and training to meet the needs of industrial cleaning professionals.
Federal Signal Corporation (NYSE:FSS) provides products and services to protect people and our planet. Founded in 1901, Federal Signal is a leading global designer and manufacturer of products and total solutions that serve municipal, governmental, industrial and commercial customers. Headquartered in Oak Brook, Ill., with manufacturing facilities worldwide, the Company operates two groups: Environmental Solutions and Safety and Security Systems. For more information on Federal Signal, visit: www.federalsignal.com.
Photos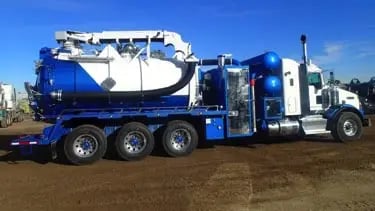 Engineered for a variety of industries and uses, Westech's Hydrovac excavation truck is specified with a TC407 rating (hazardous goods transport capable).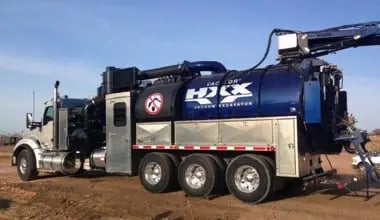 The Vactor HXX HydroExcavator provides up to seven hours of continuous operation with the on-board water. The standard variable flow water systems allow lower water flow, resulting in less operator fatigue and a cleaner, more precise digging process. The systems also allow for up to 25 gpm for those projects requiring higher water flow capabilities.